Today is the
Randolph Market
season opener and it is chock full of fashion, bling and the funkiest home decor things!
I love it and major kudos to Sally Schwartz and her team because this market is such a huge undertaking!
I wont babble on and on but i will let my pictures do the talking.
Last night I attended a preview and bloggers happy hour and hung out with some of my favorite girls.
Here I am with fashion legend Nena Ivon, who helps run the Randolph Market and who is one of the coolest people you will ever meet.
With Nikia of ChiTownFashionista
With Sabrina of Defying My Closet
And there were vendors there unloading and setting up tons of stuff.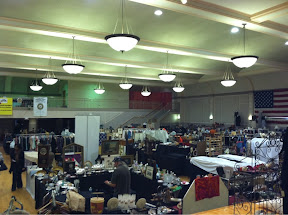 It's really quite impressive.
In my next post about the Market, I will show you what i got along with a bunch of pictures that i took.
In the meantime, check out #randolphmkt on twitter for a bunch more pictures and info from myself and other bloggers from the market!
And you still have time to check it all out firsthand and score something fabulous of your own, the Market closes today at 5 and runs from 10-5 tomorrow.
Get info:
http://www.randolphstreetmarket.com
- real time updates while out and about from my iPhone!